Best of Kenya & Tanzania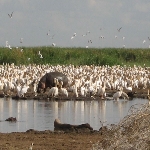 This 11 days tour combines the best rewarding and unique game drives of Kenya and Tanzania.

Kenya
1.

We visit Hell's Gate National Park where we walk or cycle (bicycle) by the wild side

2.

We visit Aberdare National Park where we have the highest water fall in Kenya called Karuru falls. The ark lodge where we spend the night is a unique tree lodge with a veranda that overlooks a floodlit waterhole and saltlick allowing undisturbed views of wildlife visiting the waterhole. Resembling and named after Noah's Ark, the Lodge is designed with 'decks' from which numerous balconies and lounges provide superb vantage points for game viewing. A ground level bunker provides excellent photographic opportunities and takes you closer than you would believe possible to the wildlife.
In each room, a buzzer system will alert you when there is something special to see, such as a leopard that might sneak to the floodlit waterhole in the dead of night. Ark Lodge is a unique tree lodge with a veranda that overlooks a floodlit waterhole and saltlick allowing undisturbed views of wildlife visiting the waterhole.

3.

We visit Samburu National Reserve. Samburu is home of unique animals that are not easily found elsewhere. These include: Gerenuk, Reticulated Giraffe, Somali Ostrich Grevy's Zebra, Beisa Oryx, Wild Dog and Pan cake Tortoise. It is one park that almost guarantees seeing the big five which are: elephant, buffalo, lion, rhino and leopard.

4.

We visit Meru National Park. This park is a complete wilderness that habours Grevy's Zebra, Elephants, Eland, Bush Pig,  Waterbuck, Cheetah, Leopard, Reticulated Giraffe, Hippopotamus, Bohor Reedbuck, Hartebeest, Python, Puff Udder, Cobra, Buffalo, more than 427 recorded species of birds

5.

We visit Amboseli National Park. The park is noted for its large herds of elephants and the best view in the world for Mt Kilimanjaro.



Tanzania
6.

We Visit Lake Manyara National Park. This impressive park is one of Tanzania's most dramatically located wildlife areas, consisting of a massive but shallow soda lake (covering two-thirds of the park) at the foot of the Great Rift Valley's western escarpment. The park's varied habitat attracts a wide variety of animals, including one of Africa's largest concentrations of elephants, Manyara's famous tree-climbing lions, as well as large flocks of flamingos attracted by the algae in the lake.

7.

We visit Ngorongoro crater. Ngorongoro is where we have the greatest concentration of terrestrial animals in the world.

8.

We visit Tarangire National Park. The park runs along the line of the Tarangire River and is mainly made up of low-lying hills on the Great Rift Valley floor. Its natural vegetation mainly consists of Acacia woodland and giant African Baobab trees, with huge swamp areas in the south. Both the river and the swamps act like a magnet for wild animals, during Tanzania's dry season. The Tarangire National Park is reputed to contain some of the largest elephant herds in Africa. This African national park is also home to three rare species of animals - the Greater Kudu, the Fringed-eared Oryx, as well as a few Ashy Starlings.


Minimum number of persons:
Maximum number of persons:
Full board Accommodation, All park and reserve fees, guiding service. all government taxes
Air fare, visa, health insurance, things of very personal nature.