Jerusalem Old City Highlights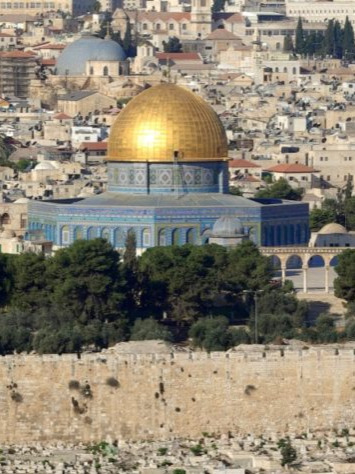 During this 5 hour walking tour you will see the highlights of Jerusalem and tips about other sites, like Yad Vashem, the Israel Museum, City of David that you can visit  on your own.

JAFFA GATE
Jaffa Gate is one of the eight gates of the Old City where extraordinary events took through history. Once we officially enter the Old City, we will pass the Tower of David, one of the emblematic buildings of Jerusalem.
After crossing the Armenian Quarter, we will exit the walls again through the Zion Gate and arrive to Mount Zion.

MT ZION
Also called Sion, its name in Old Testament times became projected into a metaphoric symbol for the whole city and the Promised Land. At this location we will visit important sites associated with events described in Holy Scriptures.

DORMITION ABBEY
Our first stop will be the marvelous church owned by the German Benedictine Order where Mary, Jesus 's mother,felt asleep.

LAST SUPPER ROOM/CENACLE
A few meters from the church we will continue to this second-story room that commemorates the "upper room" in which Jesus shared the Last Supper with the disciples.

CARDO
In the heart of the Jewish Quarter is hidden one of the pearls of Jerusalem, the Roman Cardo, used for centuries as the main street of the city where most of the commercial and social activities were taking place. We will continue through the modern shopping area, where we will learn about ritual objects used in Judaism from centuries until today and we will see the beautiful examples of Jewish modern art.

BROAD WALL
A few steps from the commercial area we will go back in time, with the help of archeology and the Old Testament, to the days of Hezekiah, when a miraculous event took place and Jerusalem was saved from destruction.

KOTEL
This is the most significant site in the world for the Jewish people, the Western Wall, where they had pray for centuries.

VIA DOLOROSA
Following the painful path of Jesus on his way to his crucifixion. We will join at the 3rd station after a breathtaking rooftop view at Mount of Olives from the Austrian Hospice.

HOLY SEPULCHER
After Jesus was condemned to death, he was crucified on Mount Golgotha and was buried in a nearby tomb. According Christian tradition after three days he rose from dead. From this moment the Tomb of Resurrection became the central place of faith for all Christians in the world. This is going to be the end of our tour.
Jerusalem Old City Highlights
Maximum number of persons: