Louvre Scavenger Hunt - 3 hours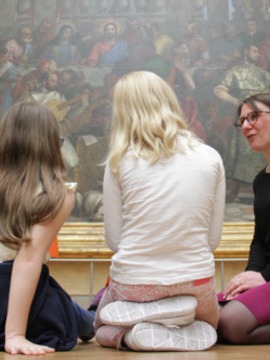 This tour is designed for children (ages 6 to 12). They will be the detectives or archeologists solving mysteries in the Louvre, by discovering the masterpieces and observing the details hidden in the art pieces. Their answers to the clues will lead them to the treasure, a bunch of little gifts for your children to remember their trip in Paris and their experience in the Louvre.

We invite you to discover with your Family some of the masterpieces of the Louvre. From the great Sphinx of Egypt, and the Greek sculptures like the Venus of Milo or the Winged Victory, we'll also take you through the Italian department of paintings. You'll of course learn about all the great mysteries of the Mona Lisa, and you'll also see the biggest painting in the Louvre, the Wedding in Cana.

Learn about the French History too, by discovering the famous painting "The Liberty guiding the people" by Delacroix, or "the Coronation of Napoleon Bonaparte".
Louvre Scavenger Hunt - 3 hours
Minimum number of persons:
Maximum number of persons:
A customized scavenger hunt, Skip the line with a certified guide
When booking, please be precise about how many in your party are over 18.