A private tour is the most enjoyable way to travel and to get a thorough understanding of the places you visit.
With a private guide, you will have a tour tailored to your wishes. All time will be dedicated to make your tour perfect and unforgettable.
You will visit and learn about the history and significance of visited highlights and usually skip the line to get the most out of your day.
The Booqify network of professional tour guides offer tours in all the major destinations.
You can book our tours directly on our website, browse through the tour guide list or use GuideMatch, a very efficient and free service to find the best guide for you.
We wish you a great time in Pakistan and feel free to contact the Booqify Pakistan Manager, Manzoor Hussain, for any of the questions you might have. Manzoor is a professional tour guide himself and will be happy to guide you.
Namaste and happy travelling
Booqify Pakistan Manager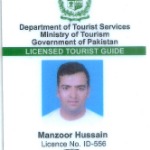 Manzoor Hussai