In my belief, Zionism created the biggest of all miracles that happened in the Holy Land.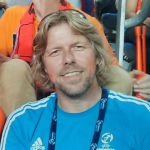 Hi there and congratulations with your decision to visit Israel.

I will be happy to share my time, knowledge and experiences with you if your goal is to have an interesting , pleasant and amusing stay in Israel.

This is a truly unique destination because of its history, geography, biodiversity and political impact on the world we live in. To use a tour guide during your visit is another good decision and will make your stay more fascinating, thought-provoking, stimulating and your memories last longer.

About me
I was born in Amsterdam and made my first trip to Israel as a teenager in the summer of 1987. It was the last year that Israel was known as a hitchhikers paradise as the first Intifadah started at the end of that year. Another thing that was possible then was taking a bus to Cairo. I took the bus and afterwards made dozens of trips to the Middle East, travelling through all neighboring countries but mostly returning to Israel. For multiple stays in a kibbutz, organizing a study tour for my University, trying to set up flower farms in the Gaza strip, being an agent for IT hardware and for family reasons. My three children are born here and one is serving in the Israel Defense Forces at the moment. In 2008 I finally made Israel my home and I have been living in Tel Aviv and thinking about Jerusalem since.

After selling my internet company I gave myself the best present ever: a two years course to become a licensed tour guide. Twice a week lectures and visiting over 500 different sites.

And now I am available for guiding, starting from a few hours, in Tel Aviv or Jerusalem, day trips to amazing sites like the Dead Sea, Ceasarea, Akko and Bet Guvrin to multiple day trips including beautiful and exiting hikes in nature.

Click on My Tours to see a few possible iteneraries that I did before or mail me what you have in mind.

Anyways, whether it's me or someone else from the pool of thousands of the best guides in the world (according to international tour operators) who might guide you, I sincerely wish you an amazing time visiting Israel.