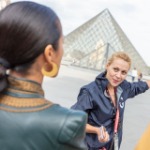 Iuliana Excelle
Highlights for Private Tour
Note: For a guided tour in Versailles you need a licensed guide with a special card to guarantee your entrance. Booqify works with only certified and professional guides with this special "Guide Conférencier" Card. With your guide, you get a special "skip the lines" access.
Morning tour in Versailles
Start: By car or by train, you'll leave Paris at 9.30 am, for a morning tour in the palace of Versailles.
1. Approximately 12 miles southwest of Paris, Versailles used to be in the middle of the forest and the swamps.
2. Louis XIII builds a hunting lodge in Versailles, as he likes to escape from Paris to practise his favorite sport. But Versailles is 5 hours from Paris on a horseback. It is much easier to spend the night there after such a long journey and a few hours hunting.
3. Later, Louis XIV decides to build a palace, known as the envelope, around his father's hunting lodge. Louis XIV isn't very patient, but he'll have to wait 60 years to see the whole palace finished !
4. In 1682, the French Royal court settles in Versailles. Versailles will become the main dwelling of the Kings, for almost 100 years.
5. Louis XIV Louis XV and Louis XVI : three kings live in Versailles before the French Revolution. In 1789, the people revolt against the king. Versailles will never be a palace anymore !
Lunch break
1. Stop at the place of your choice for a quick bite or a longer lunch. It is possible to eat in a restaurant inside of the Palace.
2. Another possibility, is to have lunch in one of the restaurants in the gardens. Ask your guide for recommendations.
3. Please note that in the summer, if the weather is nice, you can buy sandwiches in a bakery on your way to Versailles, and have a little picnic on the grass, in the gardens.
After lunch, discover the amazing gardens of Versailles
1. Designed by the landscape gardener, and genius, André Lenotre
2. Lots of surprises await you, in the enormous gardens, that you can visit in many different ways : walking, biking, in golf cards, segways, or with a car.
3. Ask your guide for the musical gardens with fountains, depending on days and seasons.
4. Take the time to visit the Petit Trianon, a smaller palace, decorated and beloved by Marie Antoinette, and learn more about this unusual young woman.
Finish. At around 14 pm , the tour ends with drop off at your hotel.
The tour can be customized around your needs and your schedule.
Guest reviews
Louvre Private Tour.

"I never knew that Versailles was so full of surprises ! Thanks to Iuliana, everyone was happy to discover the hidden gems of this Palace !
I recommend that you give her a try, with her smile and her energy, her expertise in Art and History you will not be deceived!"
Marie et Roger

Most amazing tour ever!.
"Everytime we go to a new city ( like Paris this time ), we sure need a guide to help you take the transportation, discover the real good places from the first day , and learn about parisian: what to do , what not to do …
But this time , I tried Iuliana, she is great , amazing, fun , and a Parisian expert. She even helped us before we come to Paris! it is wonderful to meet her."
From verified TripAdvisor review

We had a very lovely tour in the Louvre with iuliana!.
"She is knowledgeable of the Masterpieces of the louvre , she is fun , and fanatic Selfie-picture lover! We will always remember the tour and the insides of the Louvre thanks to you"
Jack and his wife from Chicago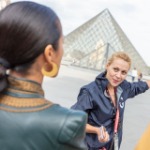 Iuliana Excelle
Booqify is a network of independent professional tour guides in France.
With us you will be sure to be guided by a passionate, knowledgeable and officially licensed tour guide.