In this tour we walk through the old city of Jaffa, one of the oldest port cities in the world, which has been conquered and administered by many different peoples: Egyptians, Romans, Muslims, Crusaders, French (Napoleon), British and and now again by the Jews.
It was from Jaffa that Peter headed west to spread Christianity to the non believers and it was from Jaffa that the Jews, at the end of the 18th century, went to the North to start Jewish neighborhoods. After leaving the Old City we visit the last remaining houses of the first neighborhood outside of  the walls; the American Colony from 1866. From Jaffa we go to Neve Tzedek, the first Jewish neighborhood outside Jaffa and a prime example of gentrification.
In 1909, after many more small neighborhoods were build, affluent Jews who arrived mainly from Eastern Europe, wanted some quality as well and decided to built a neighborhood with electricity, running water and a sewage system. The name of this neighborhood, Ahuzat Bayit, was changed to Tel Aviv the year after. We will visit the Museum of Independence, the site where David Ben Gurion declared the founding of the State of Israel. From Ahuzat Bayit we continue on Rothschild Boulevard, walking through the largest concentration of buildings in the International Style in the world which the UN awarded the Unesco Heritage status.
Rothschild Boulevard ends at Habima Square, home to Israel's National Theater,  which we cross to continue on another Boulevard to Rabin Square to visit the site of the huge peace rally and Rabin's murder in 1995.
We finish at Sarona, an agricultural settlement founded in the second half of the 19th century by German Templars. Like more Germans in the 1930s, many started hang swastika flags out of their homes, which was not appreciated by both the British and the Jews and during WWII most were expelled to Australia. In 1948 Sarona became the headquarters of both the Israeli government and the Israeli army. All original buildings have recently been renovated and the site turned into one of Tel Aviv's hot spots with boutique shops, bars, restaurants and an excellent indoor culinary Sarona Market. Here we end the tour and you can start spoiling your inner self.
Searching Availability...
&nbsp
Start: Pick up from hotel or St Peter's Church in Jaffa
$ 350 per tour for max. 3 persons, $375 for max 7 persons , extra fee for Saturday/Shabbath: $50
Private tour with a private guide exclusive for you.
All tour guides are officially licensed by the Ministry of Tourism of Israel.
Entrance fees, drinks and meals are not included.
Transportation from hotel (in center Tel Aviv) to Jaffa is included.
Modest dress (no shorts or sleeveless shirts) and head covering are required for visiting holy sites.
Cancellation Policy: If you cancel at least 10 days in advance of the scheduled departure, there is 100%. If you cancel between 4 and 10 days in advance of the scheduled departure, there is a 50% refund. If you cancel within 3 days of the scheduled departure, there is no refund.
Booqify is a network of independent professional tour guides in Israel.
With us you will be sure to be guided by a passionate, knowledgeable and officially licensed tour guide.
Click to see who we are and what others write about their experience with us.
If bookings are full or closed you can call us on 00972 – (0)54 312 12 20 for last minute arrangements.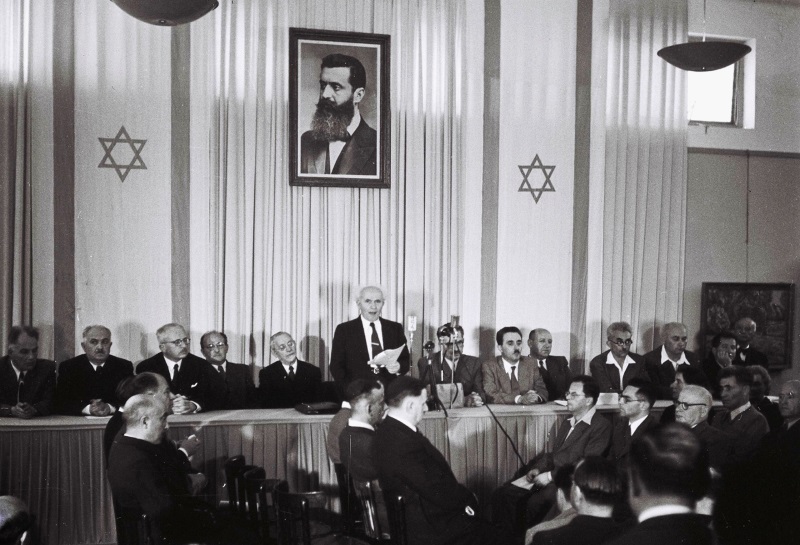 David Ben Gurion reads the declaration of the Independent State Of Israel in 1948, we will visit this location




;