The Mughal Emperors of India bestowed upon themselves seemingly appropriate grand and pompous titles such as `Kings of the World' & Shadows of God'. Attracted by the Mughal wealth and splendor, European traders and entrepreneurs found their way to the fascinating Indian sub-continent. India was till then believed to be the richest country in the world.
By the mid 18th century (1757) the British East India Company slowly and gradually gained commercial and military control of the Mughal Empire, while subdued Mughal Emperors continued to live powerless but luxurious lives in magnificent palaces. There was much discontent among Indian rulers over annexation of their territories and the divide and rule policies of the British and many parts of North India were rife with rumours and suspicions. However, the lack of the feeling of Indianness, among the masses who were ruled by various princely states prevented the formation of a united opposition to British rule.
The undercurrents of rebellion by the Indian Sepoys ( sipahi in Hindi meaning soldier) festered over a period of time owing to various harsh steps taken by the British and in 1857 when some measures hurt religious sentiments it took the shape of a full rebellion against British India control.
On this tightly packed tour you will be visiting significant palaces, forts, monuments and cities of the Mughal period which was witness to The Mutiny -the uprising against British control. It was a crude and brutal war, with both sides resorting to what will now be described as war crimes. In the end, however, in terms of sheer numbers, the casualties were significantly higher on the Indian side. There are many tales of cruelty, cowardice, heroism and self-sacrifice on either side. Much has been debated ever since Mangal Pandey sparked the revolt or The Rising as to whether this was a war of independence or just a revolt firmly crushed by the British but the truth is that the British continued to rule for another ninety years only to be subdued by a non violent struggle led by Mahatma Gandhi.
This journey takes you down that period in history when Delhi was not yetthe capital of India but the seat of the fading Mughal Empire , when the British East India Company was to hand over the controls directly to the Queen, Meerut where the rebellion started, Lucknow which was then the most splendid city of India, Kanpur the scene of many bloddy battles and Agra an important historical city with the crowning glory of Mughal architecture the Taj Mahal a poem in white marble, mesmerising you with a story of an undying love.
---
About Parveen Paul, independent tour guide in IN.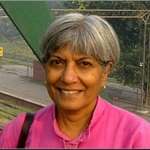 Let me welcome you to Incredible India. India has transformed in the last few decades from a struggling young country to a vibrant democracy. Modernity and tradition thrives side by side in a stunning array of diversity. Bounded by the majestic Himalayan ranges in the north and a 6000 kilometre long coastline in the south with many stretches of golden beaches, India is a vivid kaleidoscope of landscapes, magnificent historical sites and royal citadels, misty mountain retreats, verdant forests, i
Contact Parveen Paul