A private tour is the most enjoyable way to travel and to get a thorough understanding of the places you visit.
With a private guide, you will have a tour tailored to your wishes. All time will be dedicated to make your tour perfect and unforgettable.
You will visit and learn about the history and significance of visited highlights and usually skip the line to get the most out of your day.
The Booqify network of professional tour guides offer tours in all the major destinations.
You can book our tours directly on our website, browse through the tour guide list or use GuideMatch, a very efficient and free service to find the best guide for you.
We wish you a great time in India and feel free to contact the Booqify India Manager, Haider Ali, for any of the questions you might have. Haider is a professional tour guide himself and will be happy to guide you to the Taj Mahal.
Namaste and happy travelling
Booqify India Manager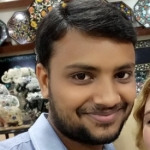 Haider Ali
Full day Taj Mahal Private Tour From Delhi By Express Train $115. Up to 5 persons
Just a century ago, the British moved the seat of their empire from Kolkata to Delhi. And it has been the Capital of India ever since. Now a thriving, cosmopolitan metro, the city has much to celebrate as it has already reached the milestone of completing 100 years as a Capital. With a history that goes back many centuries, Delhi showcases an ancient culture and a rapidly modernising country. Dotted with monuments there is much to discover here. The seat of many powerful empires in the past, its long history can be traced in its many carefully-preserved monuments, ancient forts and tombs.