The walled Old City is 1 by 1 kilometer with many, tiny, streets in it.
About 4 kilometers of roads in the Jewish, Muslim, Armenian and Christian quarters have been made accessible to wheelchairs and strollers and about 2 km of handholds were installed alongside staircases.
Ypu can download the app to show you the way on these roads
Download the app:
Android: https://play.google.com/store/apps/details?id=pami.accessibility.sayyes
Apple: https://itunes.apple.com/il/app/accessible-roads-jerusalem/id1434672106?mt=8
See how it works: https://www.youtube.com/watch?v=caCxEfuw5gIfeature=youtu.be
https://jerusalem.accessible-roads.com/#/map

---
About Menno de Vries, independent tour guide in Israel.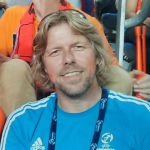 *** Klik hier voor info over dagtoer Jeruzalem met Nederlandse gids ***
Hi there and congratulations with your decision to visit Israel.
I will be happy to share my time, knowledge and experiences with you if your goal is to have an interesting , pleasant and amusing stay in Israel.
This is a truly unique destination because of its history, geography, biodiversity and political impact on the worl
Continue reading
Contact Menno de Vries